There is a startling difference in the public's opinion of wind energy as reported by the BBC compared to that found by independent polls.

The BBC frequently asserts in its discussion programmes and elsewhere that a majority of the public is in favour of wind power.

The four polls below (most recent at the top) and the thirteen polls here suggest that this is untrue.


BLACK ISLE VOTE AGAINST WIND POWER
People in the Black Isle have voted against a controversial community wind farm plan. This was a postal ballot about developing the three turbines at Millbuie Forest near Culbokie. The turnout was 56.7 per cent.

David Fraser said: " It would have been wrong to have spent an additional £150,000 of scarce public money on a windfarm development which we believe made little financial or environmental sense."

There are no plans to revisit the idea.

RESULTS:
45.6% For the development (2,225 votes)
54.4 % Against the development (2,655 votes)
4 invalid votes.

16 Mar 15




WIND ENERGY POLL, KIRBY MOOR, LAKE DISTRICT
An application to replace one of Britainís oldest wind farms with new turbines three times as tall will, if it goes through, affect Lake District tourism. The 12 turbines of the existing Kirkby Moor wind farm, built in 1993, are 139 feet tall and stand just outside the southern boundary of the National Park.

Energy company RWE Innogy is seeking planning permission to replace them with six new turbines, three times as high.

An internet poll rejected the application in a ratio of about 2:1.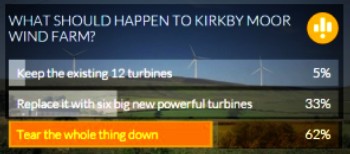 9 Mar 15

WIND ENERGY POLL, ROSS-ON-WYE
Poll from the Ross Gazette, Ross-on-Wye.
Wind energy rejected in approximate 4:1 ratio.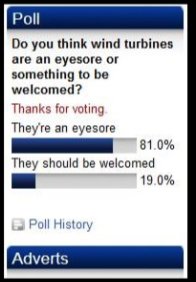 7 Mar 15

'METRO' NEWSPAPER WIND ENERGY POLL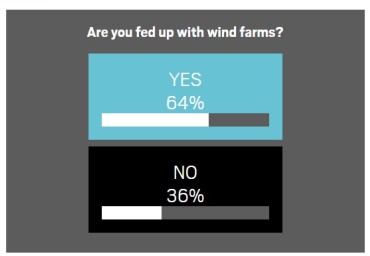 Several thousand respondants. Wind farms rejected in approximate 2:1 ratio.
20 Dec 14
Thirteen more polls


habitat21