The BBC frequently asserts in its discussion programmes and elsewhere that a majority of the public is in favour of wind power.

The thirteen polls below (most recent at the top) suggest that this is untrue.



WESTERN UNIVERSITY, LONDON, ONTARIO, May 2014
2:1 majority against wind farms; details below.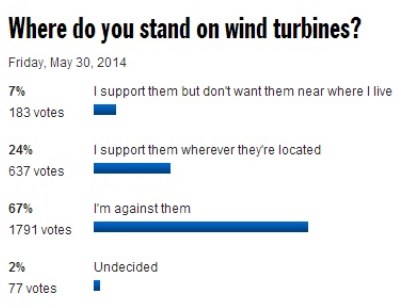 1 Jun 14


BBC 'COUNTRYFILE' POLL - WIND FARMS, 12 Apr 2014
Interesting poll on wind energy: "would you buy a house near a wind turbine"? Click on the small picture for the detail.
The reason for the 87% 'no' vote is becoming fairly clear; significant value can be removed from a property if wind turbines are built nearby. Some houses become very difficult or impossible to sell. The 12% decrease in value quoted on the BBC webpage compares with 30% reductions in parts of Ayrshire.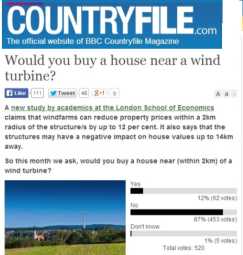 12 Apr 14
UPDATE..... the eventual poll result, of 6,000 respondents, was 70% 'no', 29% 'yes', and 1% undecided.


COLNE VALLEY, ENGLAND, 21 Dec 2013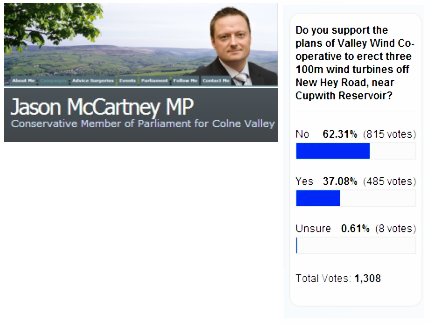 FLYERS' CREEK, AUSTRALIA, 3 Dec 2013
From the Central Western Daily, NSW. Flyers Creek is 20 km south of Orange, New South Wales. The vote against wind turbines was by a majority of 70:30.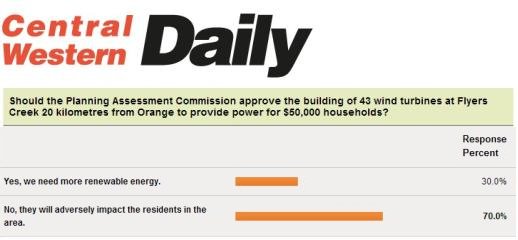 CHEROKEE, NORTHWEST GEORGIA, 28 Nov 2013
From the Northwest Georgia News: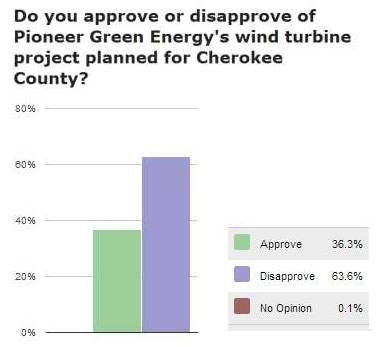 SHROPSHIRE, 5 Sep 2013
Another poll done by the Shropshire Star; the question: would you welcome more wind farms in your area?





SHROPSHIRE, 21 June 2013
A poll done by the Shropshire Star:





LINCOLNSHIRE:WIND ENERGY SURVEY, Jan 2013
Carried out by Lincolnshire County Council; some results from a survey done in January 2013. See the whole survey on www.lincolnshire.gov.uk.

Where do you live?
Boston 207 (5.21%)
East indsey 1127 (28.3%
Lincoln City 208 (5.23%)
North Kesteven 500 (12.5%)
South Holland 524 (13.1%)
South Kesteven 791 (19.9%)
West Lindsey 616 (15.5%)

Wind farms should play a part in meeting Lincolnshire's future energy needs
Strongly agree 844 (21.2%)
Agree 585 (14.7%)
Disagree 628 (15.8%)
Strongly disagree (46.7%)
No opinion: 58 (1.5%)





STRAITON, SCOTLAND, 15 June 2013
A poll done by the local paper: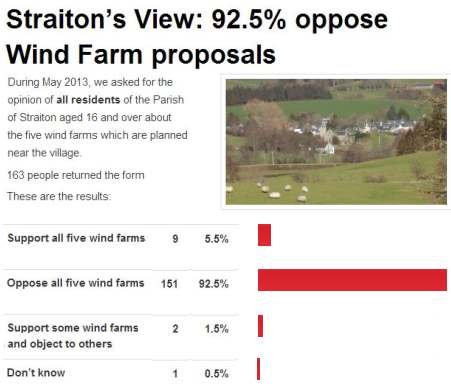 PERTHSHIRE, SCOTLAND, 14 June 2013
Highland Perthshire News: (www.highlandperthshirenews.com)

The question: Should further large-scale windfarms be sited in Highland Perthshire?

The vote was strongly against.

This sees a similar outcome to most polls not targeted at the urban resident.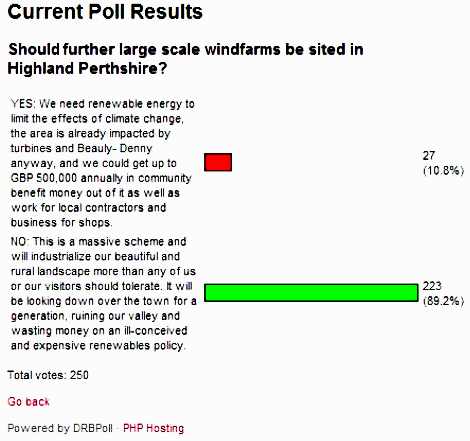 .................................................................
HUNTINGDON POST, Dec 2012
During mid-December 2012 the Huntingdon Post polled its readers with the question "Are more windfarms in Huntingdonshire welcome?"

In line with two other recent polls on wind turbines and renewables in The Guardian, the idea was firmly rejected: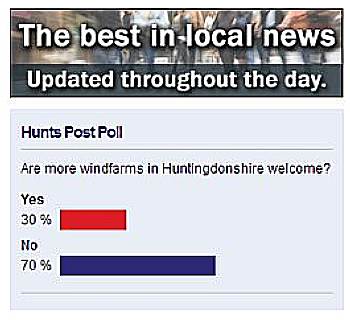 .................................................................................

GUARDIAN NEWSPAPER, NOV 2012
During November 2012 the Guardian newspaper organized an online poll asking the question "Are you prepared to pay more for energy from renewables sources such as wind farms?"

Two-thirds of its readers rejected the idea.

Here is the poll result as displayed on www.guardian.com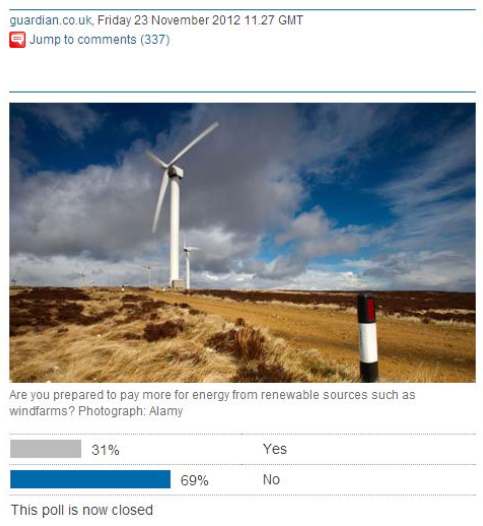 UPDATE - another poll was held after the Doha conference.

"Should rich countries compensate developing nations for the damage done by climate change?"

61% of Guardian readers rejected the idea.
habitat21