Common hawthorn, or white thorn, (Cretagus oxycantha) is valuable both as a hedge shrub and as a tree. Few plants exceed it in beauty, when in bloom, the season of which is usually May, on which account the name of May or 'May-blossom' is, in some places, given to the tree.

When young, the hawthorn grows rapidly, a shoot of a single year being sufficient for a walking-stick, but when it stands to be a tree, it makes wood very slowly, and lives to a great age.

The wood is remarkably durable. There is, or there was, a few years ago, a hawthorn in the cellar of Cawdor castle, which has been without leaves or bark for more than a century, and which, tradition says, has been in its present situation and of its present size, ever since the castle was founded.

There is something about the tree which one cannot soon forget. When the traveller or the man of the world, after a life spent in other pursuits, returns to the village where he was born, the old hawthorn is the only playfellow of his boyhood that has not changed. His seniors are in the grave; his contemporaries are scattered; the hearths at which he found a welcome are in the possession of those who know him not. The roads are altered; the houses rebuilt, and the common trees have grown out of his knowledge: but be it half a century or more, if man spare the old hawthorn, it is just the same - not a limb, hardly a twig, has altered from the picturer that memory traces of his early years.

The timber of the hawthorn is remarkably hard and durable, and fit for many purposes, but a supply of large dimensions cannot be obtained rapidly, as the tree grows so slowly after attaining some size.

There are several varietes of the hawthorn, all natives of Europe. Of these the double-flowering has great beauty as a shrub.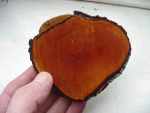 summarised from "The Library of Entertaining Knowledge - Timber trees" (1829), pub. Charles Knight, Pall Mall.

ND, habitat21