IMPACT OF RENEWABLES USE ON ELECTRICITY PRICE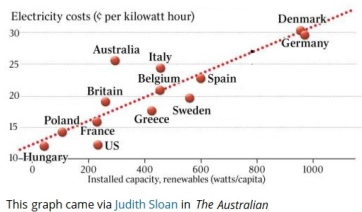 3 Feb 18

DUTCH RENEWABLES
The Financieele Dagblad has carried out research predicting that cheap natural gas may kill off wind power. Hundreds of wind turbines in the Netherlands are operating at a loss and are in danger of being demolished. The main cause is low energy prices, which means that maintaining the turbines costs more than the electricity is worth.
23 Jan 18

GERMAN RENEWABLES
According to Prof. Hans-Günter Appel of Wilhelmshaven University of Applied Sciences for Materials Science, the installed capacity of Germany's wind and solar (Nov 2017) is 100GW. It produces a mean output of approximately 15GW.
22 Jan 18

ELECTRIC VEHICLES
I learned something today which is not generally known. If a hybrid or EV vehicle has an accident it cannot be moved by highways officers or police because of the danger of electrocution through the bodyshell. They have to wait for a special tow truck and specially trained staff to isolate the batteries. In the case I was watching, the truck took 45 minutes to arrive, plus the time to isolate and load the crunched vehicle. In the meantime this blocked the A1M to all traffic. The accident was a minor shunt which would have been cleared in five to ten minutes if it was a petrol or diesel car. (message from JG, engineer, 22 Jan)
15 Jan 18

FRACKING
I have no personal experience of fracking. However, the UK Royal Society states that fracking is safe, as long as it's properly regulated.
A review by the Royal Society and the Royal Academy of Engineering says that fracking can be undertaken safely, as long as best practices are implemented and strictly enforced through regulation.
Robert Mair, chairman of the review's working group, says they found that the most common areas of concern, such as the causation of earthquakes or drinking water contamination, were very low risk.
15 Jan 18

WIND TURBINES TO BE DISMANTLED AND REMOVED
A dozen 140ft wind turbines on the edge of the Lake District are due to be dismantled next summer, 2018. The decision follows a campaign by the Friends of the Lake District and the Open Spaces Society. They said that the turbines spoiled views in the Lake District National Park. Kate Ashbrook, OSS general secretary, said that they objected because the turbines were a severe intrusion in a wild landscape.
22 Dec 17