Leicestershire is in the East Midlands; a slightly cooler climate than in the traditional apple- growing counties of the U.K. Nevertheless there are apples which prefer this climate to that of the traditional apple-growing counties of England.
About twenty apples have their origins in or near Leicestershire. There are fourteen heritage varieties. The special qualities of most of these are listed below.
ANNIE ELIZABETH
A very late cooker and dessert apple, raised about 1857 by Samuel Greatorex, Avenue Rd, Knighton, Leicester. Named after his baby daughter who died 1866. Introduced by Harrisons. This is a good stewing apple which hangs on the tree very late - well after New Year if left. Sharp flavour; some resemblances in flavour to Cox; dense texture. Rather dry and inedible until after Xmas. Better than average blossom.

Special quality - it is dual purpose; very very late and stores all winter.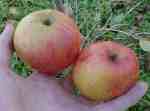 BARNACK ORANGE
- Raised by Mr. W.H. Divers, head gardener at Belvoir castle, Leics. Barnack Beauty x Cox's Orange Pippin. Similar to Barnack Beaty; a dessert apple with good flavour, ripening in Sept-Oct and which stores to about Feb.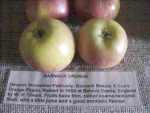 BELVOIR SEEDLING
Apple raised by W.H. Divers, probably at Belvoir Castle, Leicestershire, c1935. Fruits have firm, fine flesh; sweet with little acidity.It's Annie Elizabeth x Dumelow's seedling. Picking time: Early October. Stores until about March in some years.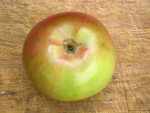 CROSS'S PIPPIN#
Apple originating in Hugglescote, around 1930s. Small round eating apple , pale yellow-green skin , does not keep. No known trees at time of writing, but we are looking.
DUMELOW'S SEEDLING
An apple raised at Shackerstone, near Ashby, by the farmer Richard Dumeller in the late 1700s. Probably from Norfolk Greening pip. Also known as Normanton Wonder. A large, fairly flat conical apple, pale green and smooth skinned. A good apple for baking; not really suitable as dessert apple because of its acidity, which it retains until the spring - can keep until April. An important Victorian culinary apple, and one of the main Victorian varieties in gardens and commercially. There are still many trees remaining in the West Midlands but it's long since been overtaken by Bramley.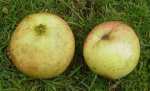 FOXTON'S PRIDE
Also known as 'Foxton's Favourite' - a small cooking apple, a few trees of which are found in the Leicestershire village of Foxton, of lock fame. The tree is said to propagate easily from cuttings; quite unusual for an apple. However the apple is not available at present; no trees have been definitively identified.

If you have information or believe you have an authentic tree we would be pleased to hear from you.

FRENCH CODLIN
This used to be common in the districts round Derby, where it was grown under the name of "Leicester -Burton Pippin". Below medium size, smooth skin, pale straw colour. Flesh white, tender, juicy, brisk, without much flavour. An early cooker, of pretty appearance, ripe mid-August. We have located a tree and are in the process of propagating. It should be available in 2-3 years.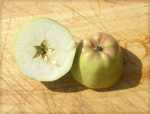 LANGTON NONSUCH
Apple probably originating in Church Langton, Leics. Lost variety, rediscovered by Leicestershire Heritage Apple Projects in Germany. This is being propagated and will be available in a year or two.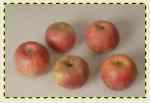 MARRIAGE MAKER
Keepers Nursery describe this apple as a Leicestershire apple. A very showy eating apple, resembling Scarlet Pearmain ; in use from October till Christmas.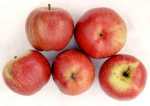 MARTIN'S CUSTARD
- an old apple which was thought to be extinct. Specimen found by Sally Cunningham in Cotesbach, Leicestershire.

This is an attractive cooking apple, later than Golden Noble, earlier than Bramley, and in many ways intermediate in character. An excellent culinary apple: in use from October to Christmas. It used to be common during the late 1800s in Northamptonshire and Leicestershire.

Fruit from a newly grafted tree: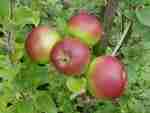 PEASGOOD NONSUCH
Once very popular in Leicestershire, but it originated outside the county. An enormous, attractive apple ofmoderate flavour. Raised by Mrs. Peasgood, 1850s, Grantham; later taken by her to Stamford when she moved. Exhibited by Mrs. P. later. Good for cooking; goes to puree. Ok fresh. Good decorative appeal in the garden - the apples are very striking; green turning to orange red flush then becoming yellow; some patches of russet. Stores up to Dec but is well past its best by then. Pick Sept.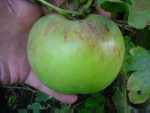 PRINCE CHARLES
Dessert, September-October. Lord Lambourne x Cox's Orange Pippin. Raised between 1940 and 1945 at Victoria Nurseries, Burbage, Leicestershire, by Herbert Robinson. Fruits have creamy white flesh and are sweet with little acidity; they have a slightly aromatic flavour.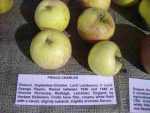 QUEEN CAROLINE
Raised and distributed by Mr. T. Brown, nurseryman of Ashby-de-la-Zouch. He had land in Measham where his seedlings were raised, c. 1820. Large apple, cooker, brisk, well flavoured. Green then yellow, smooth skin. Named after Geo. IV's wife. Keeps till Xmas.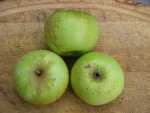 St. AILRED
Raised at Mount St. Bernard Abbey, Coalville, c.1942 by Fr. Ailred McPike.. James Grieve x Ellison's Orange. Tastes a bit like James Grieve, resembles Ellison's Orange. Quite sweet, juicy, soft; cream flesh but taste can be a bit medicinal. Skin tougher than James Grieve. Pick and eat in Sept; doesn't really keep.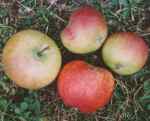 St. CECILIA
Another apple raised at Mount St. Bernard Abbey. Parentage same as St. Ailred. St Cecilia season was similar to that of Cox, it was like Lord Lambourne and of medium size. No known trees at time of writing.

SWEETINGS
This variety has been found near Queniborough. It was propagated in the 1990s by Brooksby College, and by Leicestershire Heritage Apples Project in 2010. The fruit are very small, mainly yellowish, sweet, and very early. Trees will be available in a year or two.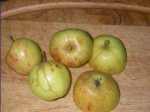 ....


LEICESTERSHIRE UNIQUE SEEDLINGS

CALLA COLOSSUS
This is an enormous dual purpose apple of spectacular appearance found by Leicestershire Heritage Apples Projects. It is being propagated and will be available in a year or two. It is possibly a long lost variety.