Youtube link:
WIND FARM PROTEST IN PERTH, SCOTLAND, 20 OCT 2012

From the video:

"....A lot of us have been able to research the viability of wind energy ourselves... some of us may have thought it was a good idea, once, but we soon changed our minds.

If we as lay people can find out the truth, why can't the people who govern us do the same?

With growing numbers of scientists, engineers, environmentalists and economists all opposing wind farm development, why is nobody at the top listening?"



....A correspondent asks ....

Why wasn't this protest reported by the BBC, when it's of national interest, especially in Scotland?

( ... I guess the protesters' views didn't agree with those of the BBC, as decided at their Propaganda Seminar in 2006 - Ed. )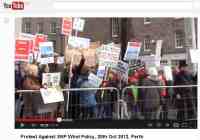 - Click the thumbnail for a bigger picture; click the link at the top of the page to see the video itself.




Lyndsey Ward lives in Beauly near Inverness ...she campaigns against wind development and has been heavily involved most recently in the public inquiry on Druim Ba.


......I am an independent anti wind farm campaigner. I began campaigning when a local friend and neighbour mentioned to residents she was intending to build a wind farm on her land. I decided to research the subject and that has lead me to be a national campaigner.To date this wind farm has not proceeded.


I am against industrial development across the UK and particularly in Scotland as I live here and can witness the devastation first hand.


I am against the pollution construction causes, damage to the environment and wildlife, the adverse affect on people's lives, the cost to us all through our energy bills (domestic and industry), the inefficiency, the unreliability, the lies and the scam.


I would like to see a moratorium on wind farm development and the facts tobe examined by independent experts.


I believe once this is done wind farm development will cease in the UK and our precious, irreplaceable landscapes will be saved and people in rural communities can again live in peace without being targeted by predatory wind farm developers desperate for the excessive subsidies on offer- but we need to do it now before it is too late.


Lyndsey Ward


PRESS RELEASE ... with details of Alex Salmond's contribution to a recent Radio Scotland phone-in programme in which he faced calls about wind turbines from listeners.